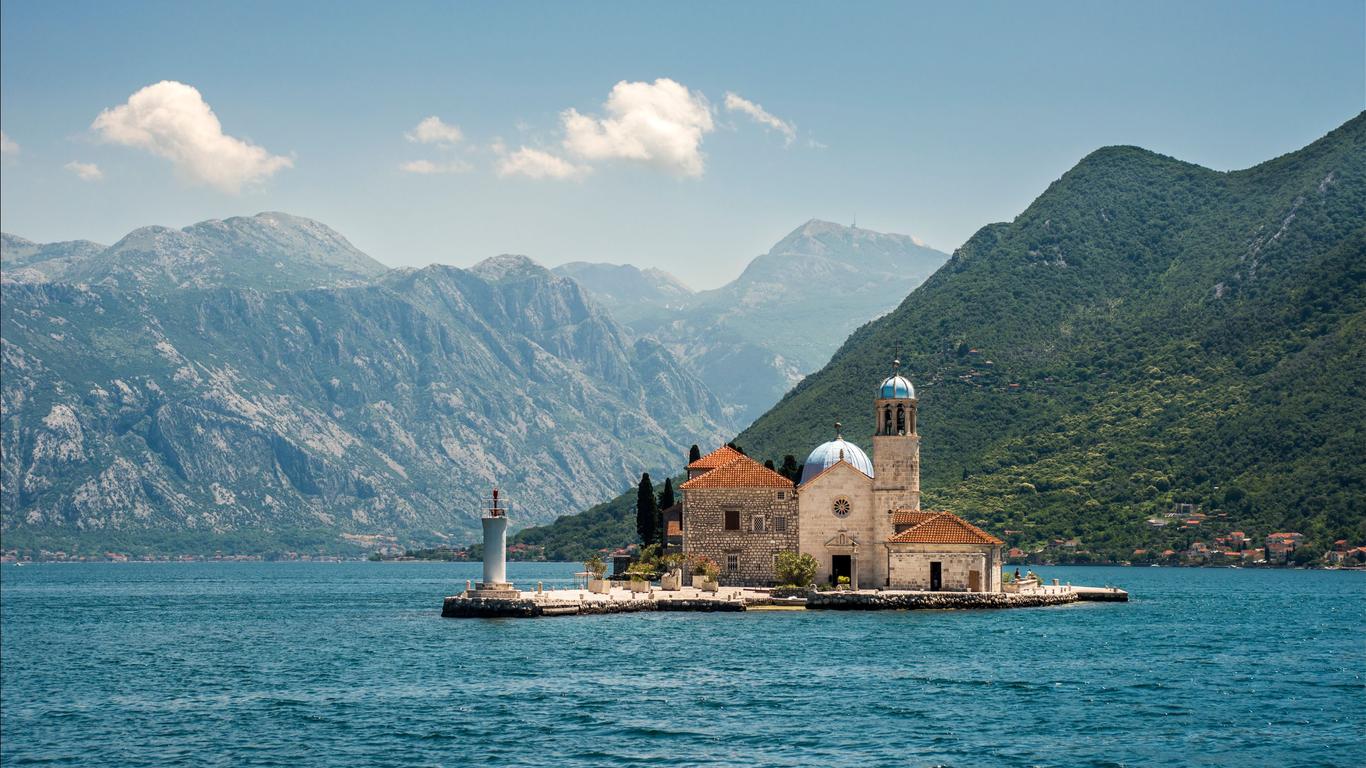 Summary info about Montenegro flight prices, duration and airlines
$231
$574
13h 15m
5 airlines
---
Explore insights for your Montenegro flight to craft the best travel plan
How long is the flight from United States to Montenegro?
If you're flying from a popular airport in United States, such as Los Angeles or Miami, and flying into the most popular airport in Montenegro (Podgorica Golubovci), then you can expect flight times to average 16h 05m and 15h 05m, respectively.
What airlines fly to Montenegro?
Of the 5 airlines that fly to Montenegro, Turkish Airlines, LOT and Air Serbia happen to be the most favored based on our user data. Turkish Airlines is the most popular among the three airlines, with 32% of users choosing them for their travels to Montenegro.
---
Looking to visit Montenegro? Check out these cities and spend time seeing some of the most popular sights in the country
---
Click on the cities below to find out when it's cheapest to fly to Montenegro from United States
---
Get up-to-date answers for some of the most frequently asked questions regarding flying to Montenegro
What popular landmarks are in Montenegro?

Montenegro is full of notable places to explore, many with significant historical value to the region and the world. Some of the most popular landmarks in Montenegro are Mala Plaza, Kotor Old Town Walls, Becici Beach, and Susanj Beach, among many more.
What is the cheapest flight to Montenegro?

If you are looking to fly to Montenegro for less, look to airlines like Ryanair, Wizz Air, and Ryanair UK, with prices starting at $25, $28, and $29 respectively.
What is the most popular airport in Montenegro to fly to?

Podgorica Golubovci is the most popular airport in Montenegro to fly to, with 55% of all users traveling to Montenegro opting to take a flight into this airport. If you're interested in staying in Podgorica, which is the city in Montenegro that is closest to Podgorica Golubovci, then be sure to check momondo for cheap flight deals.
What is the best day of the week to fly to Montenegro?

Flying to Montenegro on a Wednesday or Monday is your best option since this is when flight prices tend to be at their lowest for the week. The most expensive day of the week to fly to Montenegro is on a Saturday.
When did momondo last update prices for flights to Montenegro?

Prices for flights to Montenegro refresh daily.
How many operators does momondo search for flights to Montenegro?

As of December 2023, there are 29 operators available to choose from for flights to Montenegro.
How old do you have to be to fly to Montenegro?

The minimum age for a child to fly alone is five, but airlines that offer an unaccompanied minor (UNMR) service may have their own age limitations. Flight duration, scheduling, and layovers are among the considerations that may influence age limits. We recommend that you double-check with the airline you are booking with for travel to Montenegro.
What documentation or ID do you need to fly to Montenegro?

The travel and health documents required for your trip to Montenegro can vary based on your itinerary and personal situation. As a rule, consider having multiple documents such as a national ID card or driver's license, and a passport valid for six-months after you plan to arrive at Montenegro. We always recommend checking with your airline or a trusted third party such as IATA to get advice.
---
Find flights to these popular cities in Montenegro from your nearest airport.
---
Explore alternative premium cabin options for your flight to Montenegro
---
These routes have the cheapest flights to Montenegro found by momondo users in United States
| Departing | Destination | Best Time | Best Price |
| --- | --- | --- | --- |
| New York | Podgorica | 10h 40m | $574 |
| Chicago | Podgorica | 14h 55m | $619 |
| Newark | Podgorica | 12h 45m | $725 |
| San Francisco | Podgorica | 28h 40m | $799 |
| Washington, D.C. | Podgorica | 14h 55m | $805 |
| Boston | Podgorica | 15h 25m | $814 |
| Los Angeles | Podgorica | 16h 05m | $815 |
| Denver | Podgorica | 18h 55m | $841 |
| Boston | Tivat | 31h 50m | $920 |
| Orlando | Podgorica | 29h 40m | $939 |
| Milwaukee | Podgorica | 28h 23m | $959 |
| Chicago | Tivat | 20h 23m | $964 |
| Los Angeles | Tivat | 18h 10m | $973 |
| Miami | Podgorica | 15h 05m | $976 |
| Detroit | Podgorica | 20h 35m | $1,016 |
| New York | Tivat | 17h 10m | $1,025 |
---
How long does it take to fly to Montenegro?

The trip from the United States to Montenegro varies in duration depending on your departure point in the United States. If you have bought a ticket to travel by plane on flights to Montenegro from Miami International Airport (MIA) your travel time to Tivat (TIV) will be about 15h and 50min before your arrival on the runway in Montenegro. A Montenegro flight from Miami to a destination such as Podgorica (TGD) will take about 15h and 25min. To travel to Tivat from John F. Kennedy International Airport (JFK) you should expect a travel time of around 21h and to travel to Podgorica you are looking at a travel time of around 11h and 20min.
Can you get nonstop flights to Montenegro from the US?

While it may seem a little disappointing that you will not be able to find any nonstop flights from airports in the United States to airports in Montenegro, there are still some good options for airfare to get you to airports in Montenegro. If your departure point is Miami International Airport, you can travel on a two-stop flight that utilizes Swiss Air and Air Serbia and that has layovers at Zurich (ZRH) and Belgrade Nikola Tesla (BEG) before an arrival at Tivat. You can also travel to Tivat from John F. Kennedy International Airport on a one-stop flight aboard Air Serbia with a layover at Belgrade Nikola Tesla. Airports in the United States that offer one-stop flights to Podgorica include Miami International Airport, San Francisco International Airport (SFO), Boston Logan International Airport (BOS), John F. Kennedy International Airport, and Los Angeles International Airport (LAX).
What is the best way to travel around Montenegro?

Two of the largest cities in Montenegro that travelers to this country often visit are the coastal city of Tivat and the city of Podgorica that sits in the ruggedly beautiful terrain in the eastern part of the country just north of Shkodra Lake. One of the best ways to travel between these two cities is by bus because it is one of the fastest ways to make the trip. Gardasevic offers a bus service that makes the trip in about 2h and spends part of the trip driving on the coast of the Caspian Sea. While you can fly between these two cities the trip is not that practical because there are no direct flights and the time it will take you to travel by plane will be much longer than the bus trip. If you would like you can actually take a taxi between these two cities and you can do so in just about 1h and 20min. One final option is to obtain a rental car and make the drive yourself in about the same amount of time. Something to remember when driving in Montenegro is that you will encounter a lot of narrow two lane roads and so your trip times can be longer if traffic starts to back up. Road conditions can get a little bit rugged as you get away from larger cities but the trip between Tivat and Podgorica offers roads in pretty good shape.
Does a US citizen need a passport or visa to fly to Montenegro?

As a citizen of the United States that wants to travel to Montenegro, you will need a passport and the passport needs to be valid at the time of your entry into Montenegro. Your passport will require one blank page in the passport for an entry stamp. If you are traveling to Montenegro as a tourist and you do not plan on staying for more than 90 days in the country you will not need a visa to travel here.
---
Learn about all of the flight booking features offered by momondo for free.
How do I get Price Alerts for flights to Montenegro?

Price Alerts will notify you by email when the price for flights to Montenegro decreases. To activate this, select your desired travel dates and search for offers. While browsing through offers you'll see the Price Alert widget toggle, click it to turn on notifications.

How can I save money on flights to Montenegro with momondo?

With "Price Forecast", learn how soon you should book your flight in advance. Down to the day of week and time of day, our information can inform you on the ideal time to book to save on your travel. Our "Price Calendar" shows you at a quick glance when to book your travel for lower rates. By setting "Price Alerts" you can monitor changes in price and target the ideal time to book. Search for your trip destination by budget amount via our "Explore" feature. Whether you're looking for ideas for your next travel adventure or cost-cutting tips, our "Discover" content is a great place to start.

How does momondo find its flight prices?

momondo shows deals across 700+ competitors all at once. momondo is active in 30 international markets, so you can have access to a wide range of options from airlines and OTAs alike.
---
Why should I use momondo to find a flight deal to Montenegro?

We help find the flight that best suits your needs; momondo compares prices from hundreds of airlines and travel agents and helps you filter them to find the best flight for you.
Can I find flights to Montenegro with flexible booking policies on momondo?

Yes. momondo allows you to filter the results for flights to Montenegro to just show those with flexible booking policies.
How can momondo help me find flights to Montenegro?

Once you have performed a search for flights to Montenegro, momondo helps you find the right flight by offering useful filters to narrow down your flight selection. Flights can be filtered by multiple factors such as airline, airport and price; but also by other criteria like aircraft type and payment method.
I'm not ready to book a flight to Montenegro right now. Can momondo alert me if prices change?

Price alerts on flights to Montenegro are quick and easy to set up on momondo. Simply perform a search and select the price alert feature. It is as simple as that.
---