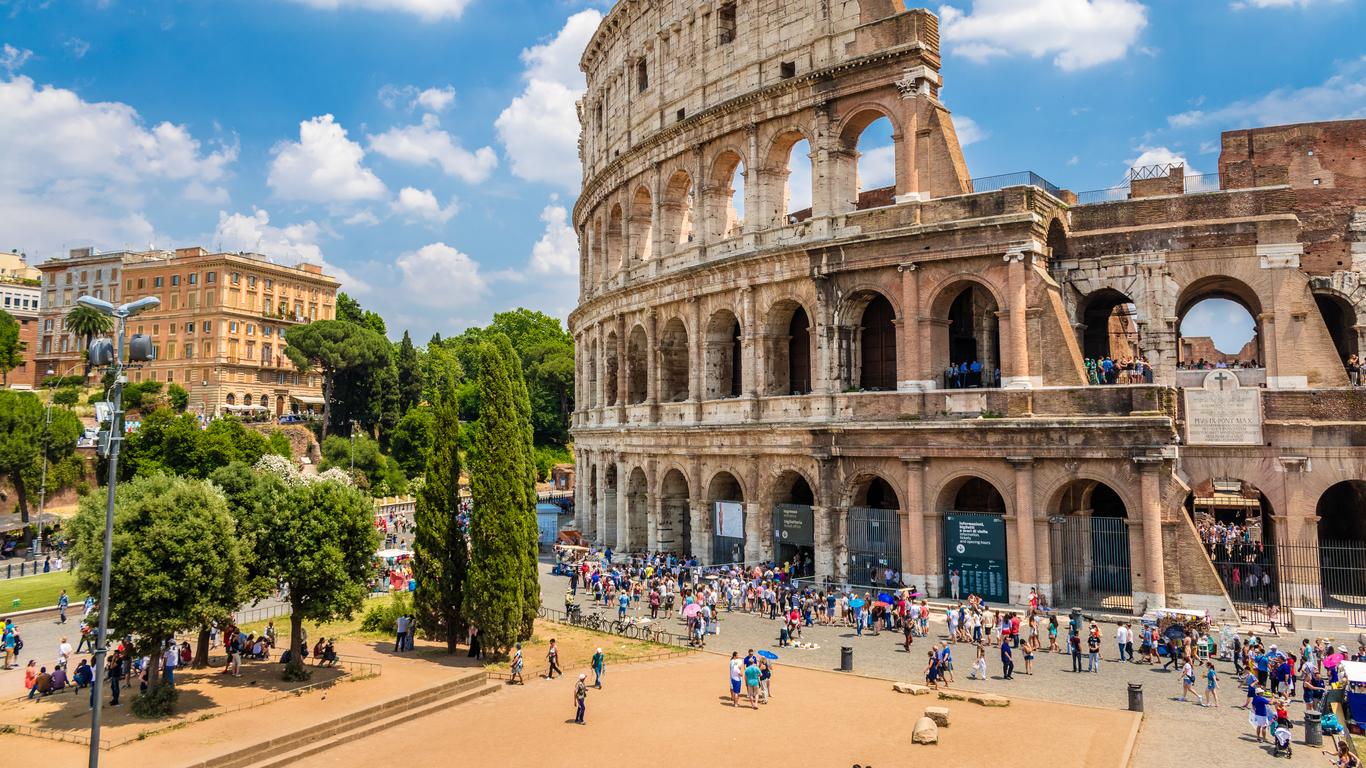 Helpful overview information on Rome First Class ticket prices, flight duration, and airlines
31h 30m
Rome Fiumicino
Alaska Airlines
---
Check out some of the best First Class round trip airfares going from the United States to Rome found recently by users on momondo.
---
Toggle between options to view the best deals for you on First Class one-way flight tickets departing to Rome from the United States
---
Book reliable First Class tickets to Rome from top-rated airlines
Airline
Rating
First Class
Price

Alaska Airlines

Price

From $521

First Class

Rating

Reviews

After 3 gate changes & 1 hour delay my flight from SFO to Seattle took off. Initially cabin was quite warmer, later chilly. Staff cordial. I know the times are challenging for the airline industry. Please keep your passengers INFORMED, texts are helpful

Finnair

Price

From $347

First Class

Rating

Reviews

Chicago airport kept changing our gate # as we prepare to leave. It also took 25 mins from the time we landed to taxi to the gate.

Air France

Price

From $500

First Class

Rating

Reviews

Due to terminal renovations, there was inadequate seating. Couldn't understand the gate agents announcements with her mask on. Could use more legroom in seats
While prices may be influenced by factors such as airline of choice, premium cabin enthusiasts can expect to pay around $6,742 for a first class flight to Rome. Travelers on a budget that still want to experience more comfort and convenience may find deals as cheap as $590. The last time this price was found by a user was on Jun 19.

Here's one airline that currently offers first class flights to Rome: Iberia. Comparing prices, seating arrangements, and exclusive services on each airline option would help ensure you get the best first class experience.

An alternative to first class seats, business class flights to Rome will cost you about $3,962. You will still get similar premium perks, like comfortable seats, while saving 42% on average (compared to flying first class).
---
Still figuring out your travel plans? These are all airports near Rome that you can arrive in, based on their distance from the city center.
---
First Class tickets can mean priority check-in and boarding, premium lounge access, additional legroom in-flight, and so on. We help users each year sweeten the deal even more by compiling all the cheapest Rome First Class flight prices, so they can experience some of the best of what airlines can offer. Note: amenities and policies differ per airline.
While the flight duration may vary for First Class travelers depending on the departure and arrival airports, here are some average flight times from popular locations you might be interested in:

Tel Aviv to Rome: 3 hours 38 minutes
Budapest to Rome: 1 hour 47 minutes
momondo compares prices from hundreds of airlines and agents so you can find and book the best deal on First Class flights to Rome. Millions of users trust and use momondo every year so you are in good company.
All flight searches to Rome on momondo can be filtered to show those which offer flexible booking policies, aside from enabling the First Class cabin option.
momondo offers useful filters to help you find the right flight. Choose specific flight times, airports or even what payment method you prefer. We have numerous options to help you book your ideal First Class flight ticket to Rome.
Yes momondo offers price alerts on First Class flights to Rome. After performing a search on this page you should be able to see the price alert set up feature. Simply provide a valid email address and momondo will instantly alert you when prices change.
---
Explore alternative cabin options for your flight to Rome
---
Not feeling like Rome anymore? Here are some flights to other popular cities within Italy you might like
---
View the most-searched flights to Rome from different departing origins (based on price and duration)
---
List of major operating airlines with flight deals for this destination