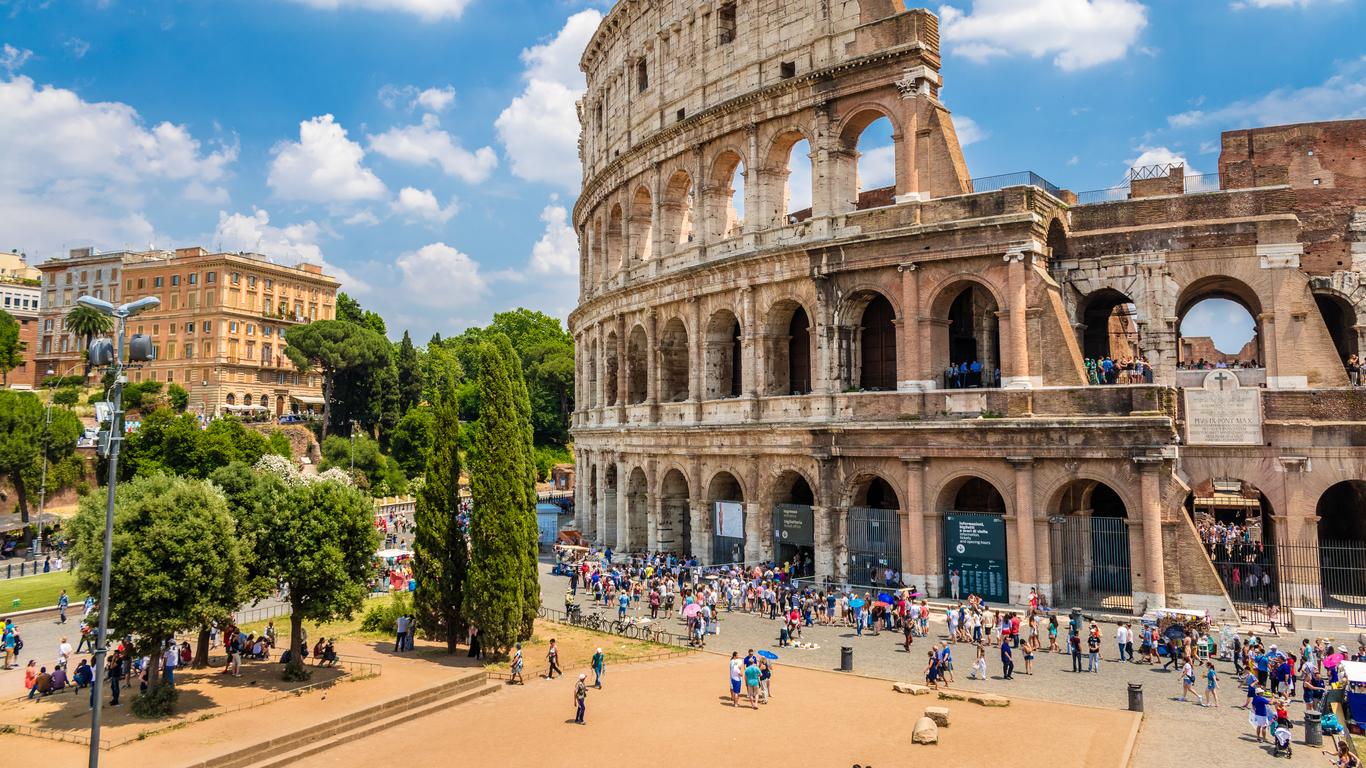 Find info about flight duration, direct flights, and airports for your flight from Charlotte to Rome
| | | |
| --- | --- | --- |
| Best Price Found | $730 | The best flight deal from Charlotte to Rome found on momondo in the last 72 hours is $730 |
| Fastest flight time | 11h 40m | The fastest flight from Charlotte to Rome takes 11h 40m |
| Direct flights | None | There are no direct flights from Charlotte to Rome. Popular non-direct routes for this connection are Charlotte Douglas Airport - Rome Ciampino Airport and Charlotte Douglas Airport - Rome Fiumicino Airport. |
| Airports in Rome | 2 airports | There are 2 airports near Rome: Rome Fiumicino (FCO), Rome Ciampino (CIA) |
---
Look no further. We've gone through all the searches for this route on momondo so you have the important information and insights to find the cheapest flight ticket for your trip
What is the cheapest month to fly from Charlotte to Rome?
February
The cheapest time of year to fly to Rome from Charlotte is February. Most expensive is June
What is the cheapest day to depart Charlotte for Rome?
Tuesday
The cheapest day of the week is typically Tuesday. The most expensive is typically Friday
When is the cheapest time to fly from Charlotte to Rome?
in the morning
Charlotte to Rome flights are approximately 18% more expensive in the afternoon than in the morning
What is the cheapest airline that flies to Rome from Charlotte?
KLM
Air Canada, Alitalia, and Delta are the most popular carriers operating from Charlotte to Rome
What is the cheapest Charlotte to Rome flight route?
Charlotte Douglas - Rome Fiumicino
Fly from Charlotte Douglas to Rome Fiumicino for the best Charlotte - Rome flight prices
How far in advance should you book Charlotte to Rome flights?
60 days before
The cheapest time to buy a flight from Charlotte to Rome is approximately 60 days to departure
---
Below you can see the best fares for your round-trip flight route over the next three months. All fares were found on momondo this week. Browse the quickest and cheapest flights from Charlotte to Rome by changing tabs
---
If you're looking for one-way flights from Charlotte to Rome, view some of our deals below provided by Major Airline
---
Compare and see reviews for airlines that fly from Charlotte to Rome with momondo
Airline
Free Cancellation
Price
Delta
Reviews
Cons: Wouldn't let us on the flight when there was plenty of time to get there. Manager was arrogant and slow - didn't care. Poor policies at that airport.
American Airlines
Reviews
Pros: Delayed flight no reasons seems like American Airlines don't know what to do in these situations
Cons: I believe this airlines should have figured the answer to this question by now.
KLM
Reviews
Pros: Yes, Very good
Alitalia
Reviews
Cons: All good but crew wasn't very attentive - for example i had had to put my suitcase quite a few rows back because of lack of space at the end of the flight i had to wait for most of the plane to empty out in order to be able to retrieve it - the crew member who had originally indicated i put my suitcase further back and who was standing right by the cabin where the suitcase was stored saw all of this but didn't move to help in the slightest even though he knew i was waiting for a chance to get to my suitcase - in my experience of customer service i would have gotten it for the passenger and brought it to them to reduce the wait time
Iberia
Reviews
Pros: I really like the preferred seating area and the crew overall
Cons: Boarding was communicated by areas one time only. I would suggest to repeat communication of the areas that were told to board before so if you missed the first one you don't have to wait until the end
United Airlines
Reviews
Pros: Everything! From ticketing agent to all the crew on our flight back were awesome. Thank you!
Air Canada
Reviews
Pros: I managed to get a comfortable seating
Lufthansa
Reviews
Pros: Al the flights was nice with no issues
Cons: The food that I have with Lufthansa was super bad and there's no Choise, however, the connect flight wit with United airline have very good food and , what I want say is United airline airplane much better than Lufthansa in every thing even the seats is much nicer
British Airways
Reviews
Pros: The crew was fantastic. Very accommodating!
Finnair
Reviews
Pros: All is great.
Cons: Nothing is not good.
---
Which airlines flying from Charlotte Douglas to Rome have COVID-19 safety policies in place?

Alitalia has implemented additional safety measures to accommodate travelers. Airlines flying from Charlotte Douglas to Rome are working to protect travelers. Some of these new policies include temperature checks, pre-flight testing, sanitization of key touchpoints, as well as mask requirements when onboard. Some airlines have even implemented socially distanced seating for a limited time. Policies will vary by airline.

Are airlines flying from Charlotte Douglas to Rome offering flexible cancellation due to COVID-19?

To ease the stress of booking flights, some of our airline partners flying from Charlotte Douglas to Rome are responding to the global pandemic. The following airlines may have a flexible cancellation policy to help accommodate travelers: Finnair, American Airlines, and British Airways.
---
Compare alternative flights to and from nearby airports and cities to discover the best prices and most convenient flight times
---
Lost the lust for Rome? Check out some flights to other cities in Italy