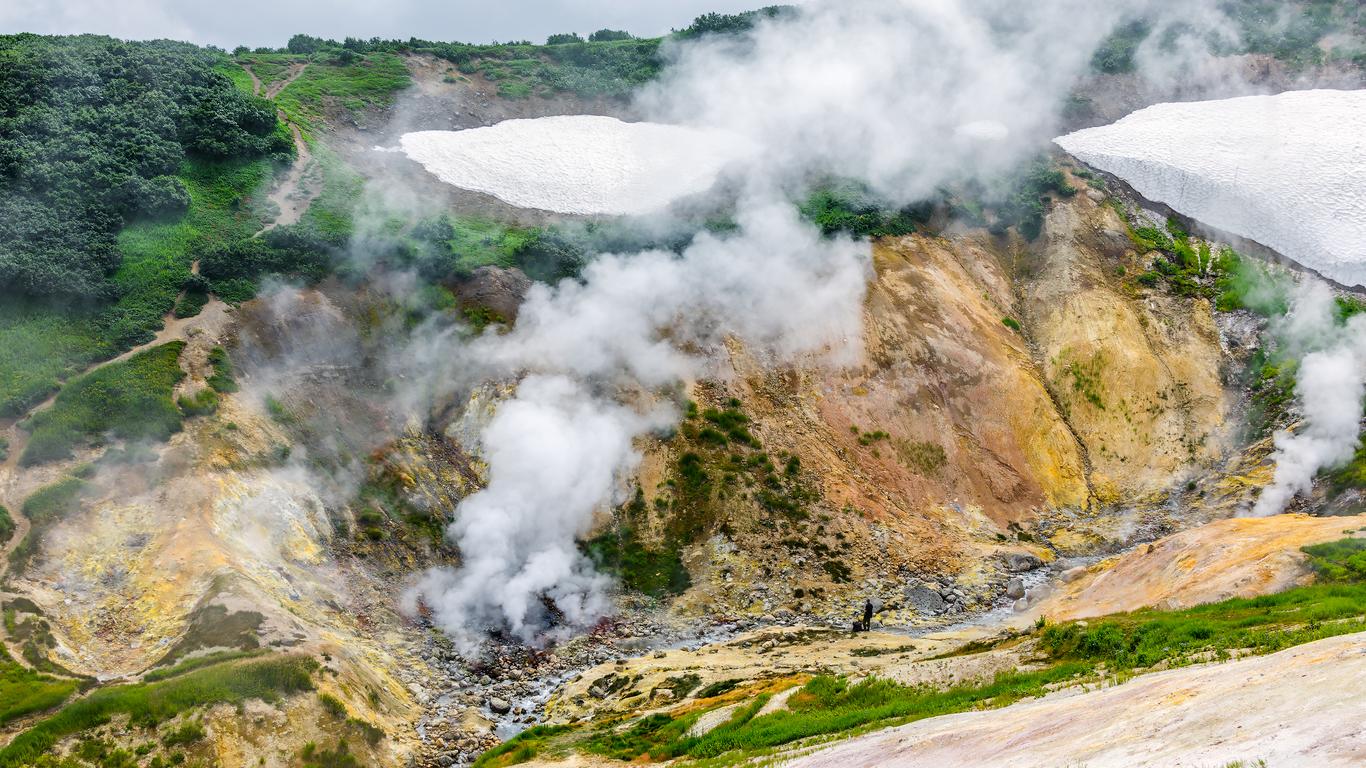 Explore insights for your Kamchatka flight to craft the best travel plan
---
Click on the cities below to find out when it's cheapest to fly to Kamchatka from United States
---
Get up-to-date answers for some of the most frequently asked questions regarding flying to Kamchatka
What is the best airport to fly into to visit Petropavlovsk-Kamchats?

100% of momondo users visit Petropavlovsk-Kamchats more often than any other city in Kamchatka. When traveling to Petropavlovsk-Kamchats, typically the most convenient airport to fly into is Petropavlovsk-Kamchats Airport.
When did momondo last update prices for flights to Kamchatka?

Prices for flights to Kamchatka refresh daily.
How old do you have to be to fly to Kamchatka?

The minimum age for a child to fly alone is five, but airlines offering an unaccompanied minor (UNMR) service may have their age restrictions, such as regulations concerning flight duration, timing, and layovers. It is recommended that you verify with the airline you are booking with for travel to Kamchatka.
What documentation or ID do you need to fly to Kamchatka?

The travel and health documents required for your trip to Kamchatka can vary based on your itinerary and personal situation. As a rule, consider having multiple documents such as a national ID card or driver's license, and a passport valid for six-months after you plan to arrive at Kamchatka. We always recommend checking with your airline or a trusted third party such as IATA to get advice.
---
Looking to visit Kamchatka? Check out these cities and spend time seeing some of the most popular sights in Kamchatka.
---
Find flights to these popular cities in Kamchatka from your nearest airport.
---
These routes have the cheapest flights to Kamchatka found by momondo users in United States
| Departing | Destination | Best Time | Best Price |
| --- | --- | --- | --- |
| San Francisco | Petropavlovsk-Kamchats | 42h 45m | $1,355 |
| Portland | Petropavlovsk-Kamchats | 49h 30m | $1,697 |
| Atlanta | Petropavlovsk-Kamchats | 27h 50m | $1,872 |
| Chicago | Petropavlovsk-Kamchats | 67h 00m | $2,722 |
| New York | Petropavlovsk-Kamchats | 48h 15m | $3,759 |
| Honolulu | Petropavlovsk-Kamchats | 44h 15m | $6,069 |
| Seattle | Petropavlovsk-Kamchats | 63h 40m | $8,004 |
---
Learn about all of the flight booking features offered by momondo for free.
How do I get Price Alerts for flights to Kamchatka?

Confirm your travel details to search for the latest offers. While browsing offers there will be the option to toggle "Price Alerts". You'll then receive updates when prices for the flight route increase or decrease.

How can I save money on flights to Kamchatka with momondo?

Leverage our AI within our "Price Forecast" tool, which predicts if it's better to book now or wait until prices decrease. You can strategically pick the best days to fly and save money on your trip by using our "Price Calendar" tool. "Explore" shows an overview of how much it costs to fly to anywhere from a selected city or airport. Our "Discover" content is a great option for travel inspiration and money-saving tips, while "Price Alerts" will update you when prices change, so you can book when fares are right.

How does momondo find its flight prices?

We aggregate our prices from over 700+ competitors from airlines to OTAs. We operate in over 30 markets worldwide to show you a wide range of travel options.
---
Pick a destination for your flight below
---
Explore popular destinations other users love to fly to year-round
---
Lost the lust for Kamchatka? Check out some flights to other regions
---
Why should I use momondo to find a flight deal to Kamchatka?

We help find the flight that best suits your needs; momondo compares prices from hundreds of airlines and travel agents and helps you filter them to find the best flight for you.
Can I find flights to Kamchatka with flexible booking policies on momondo?

momondo does allow users to show only those flights to Kamchatka which offer a flexible booking policy as well as other useful filters and features.
How can momondo help me find flights to Kamchatka?

Once you have performed a search for flights to Kamchatka, momondo helps you find the right flight by offering useful filters to narrow down your flight selection. Flights can be filtered by multiple factors such as airline, airport and price; but also by other criteria like aircraft type and payment method.
I'm not ready to book a flight to Kamchatka right now. Can momondo alert me if prices change?

If you are simply researching potential flights to Kamchatka, momondo offers a useful price alert feature which will track prices for flights to Kamchatka and alert you when they change.
---