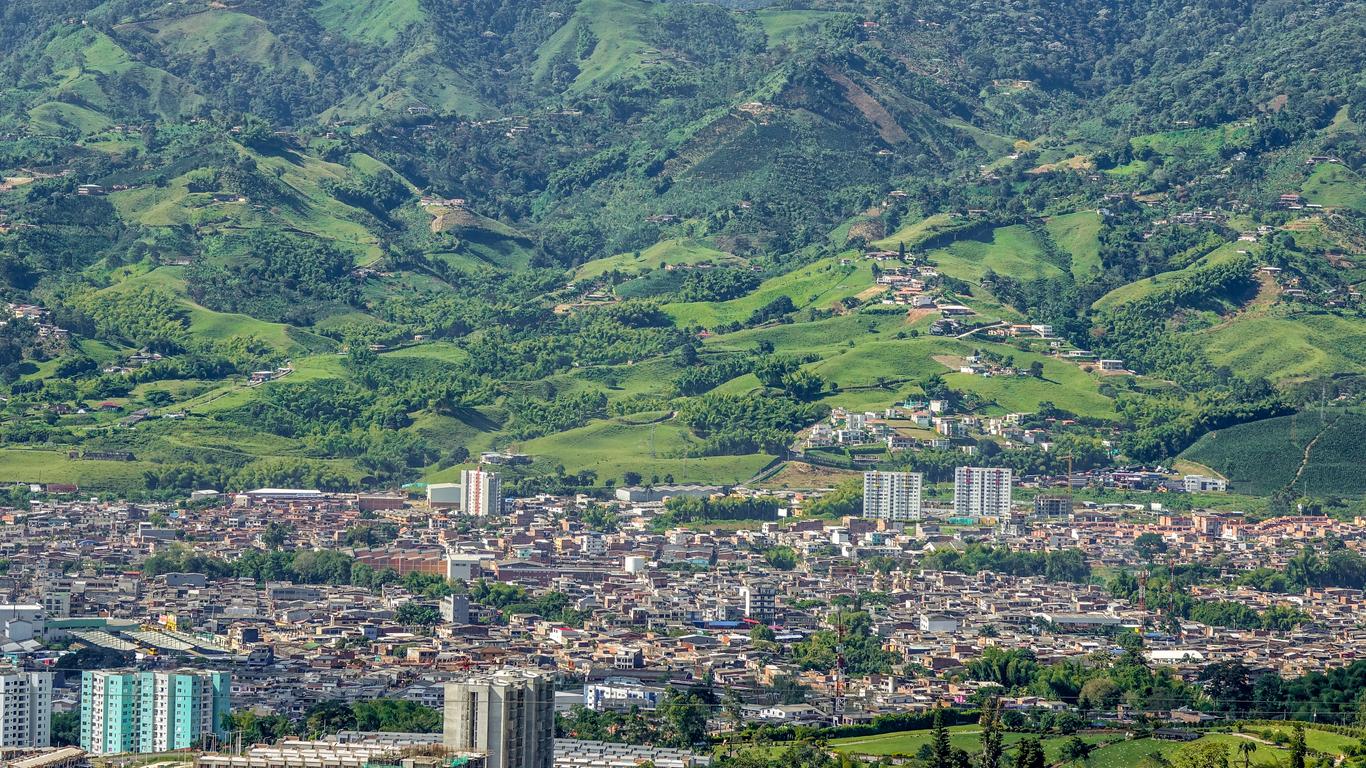 Helpful overview information on Pereira Business Class ticket prices, flight duration, and airlines
---
Check out some of the best Business Class round trip airfares going from the United States to Pereira found recently by users on momondo.
---
Toggle between options to view the best deals for you on Business Class one-way flight tickets departing to Pereira from the United States
---
Book reliable Business Class tickets to Pereira from top-rated airlines
Airline
Rating
Business Class
Price

Avianca

Price

From $190

First Class

Rating

Reviews

I paid so much for this ticket and My seat's table had tape over because it was broken. I did mention it to the attendant and it seemed like " who cares, what can I do about it? It was so uncomfortable not to have a place for my cup or my laptop. Also, there were several people with their phones or tablets playing music and sounds, once again, I told the attendant and totally ignored it. No respect and poor quality care. Not happy with Avianca.

Copa Airlines

Price

From $231

First Class

Rating

Reviews

My baggage was lost for several days

American Airlines

Price

From $243

First Class

Rating

Reviews

The crew was perfectly attentive and the food choices were superb. Nothing to improve
You can catch a business class flight to Pereira starting at just $1,425 on average, and if you're flexible, flying from United States may even cost as little as $376 (price last reported on Sep 18). Please be aware that travel dates and airline, among other factors, may have an impact on final prices.

Here's a list of airlines that currently offer business class flights to Pereira: American Airlines, Spirit Airlines. Comparing prices, seating arrangements, and exclusive services on each airline option would help ensure you get the best business class experience.

American Airlines, the most popular airline for flights to Pereira, has other cabin alternatives to Economy seats: business, premium economy. For flyers that want more travel options, try looking at another airline or departing origin.
---
Business Class tickets can mean priority check-in and boarding, premium lounge access, additional legroom in-flight, and so on. We help users each year sweeten the deal even more by compiling all the cheapest Pereira Business Class flight prices, so they can experience some of the best of what airlines can offer. Note: amenities and policies differ per airline.
While the flight duration may vary for Business Class travelers depending on the departure and arrival airports, here are some average flight times from popular locations you might be interested in:

Bogotá to Pereira: 1 hour 1 minute
Medellín Jose Maria Cordova Intl Airport to Pereira: 0 hours 43 minutes
Panama City to Pereira: 1 hour 33 minutes
Cartagena to Pereira: 1 hour 20 minutes
To find the flight that best suits your needs, momondo gathers a range of flights from a large pool of different airlines and agents; you can then use our insights and filters to find and book the right Business Class flight to Pereira.
All flight searches to Pereira on momondo can be filtered to show those which offer flexible booking policies, aside from enabling the Business Class cabin option.
Once all potential Business Class flight ticket options for Pereira are in front of you, momondo lets you sort and filter flights based on preferences such as airline, price and flight times amongst many other options.
If you are not ready to book a Business Class flight to Pereira now, use our insights above to find helpful tips or alternatively set up a price alert; this is where momondo will track prices on Business Class flights to Pereira and let you know when they change.
---
Explore alternative cabin options for your flight to Pereira
---
Not feeling like Pereira anymore? Here are some flights to other popular cities within Colombia you might like
---
View the most-searched flights to Pereira from different departing origins (based on price and duration)
---
List of major operating airlines with flight deals for this destination