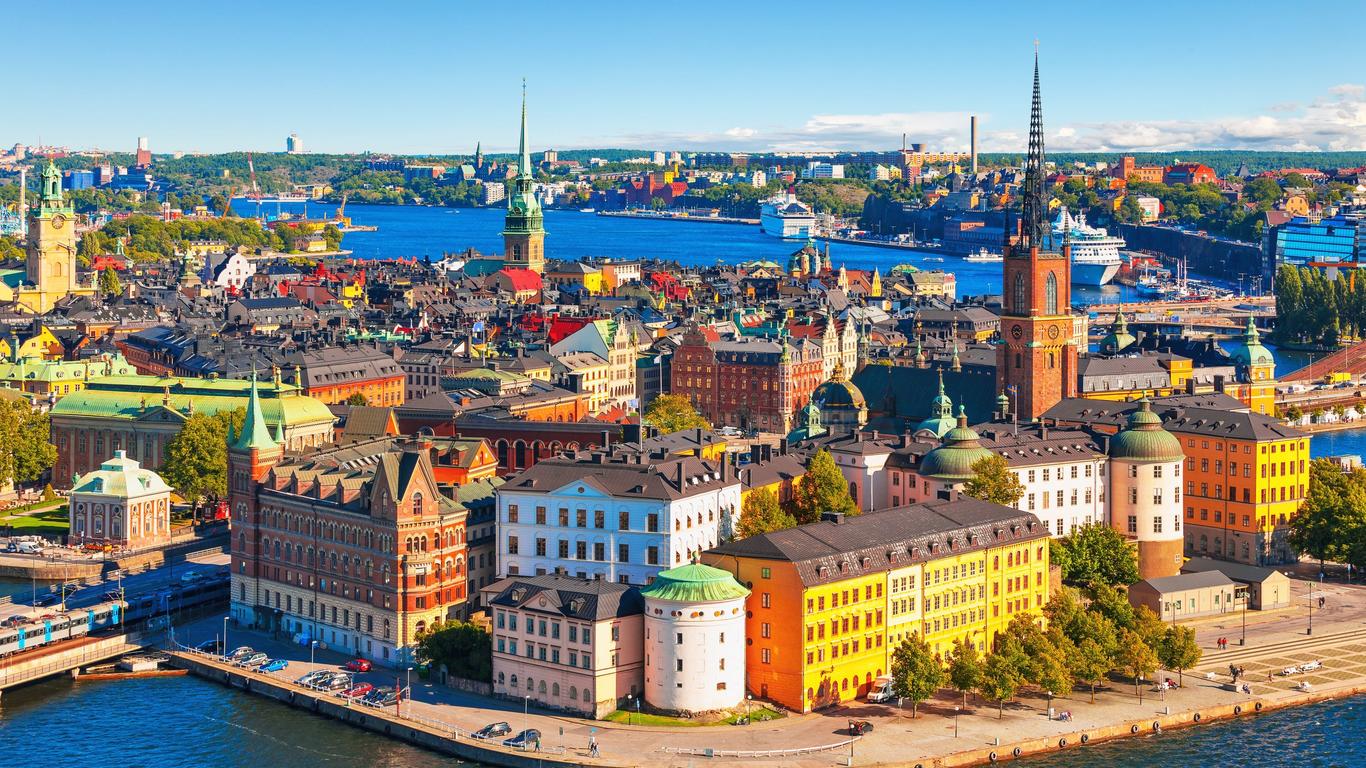 Helpful overview information on Stockholm First Class ticket prices, flight duration, and airlines
7h 40m
Stockholm Arlanda
SWISS
---
Find prices on round-trip flights with any cabin class, including First Class, going to Stockholm
---
Find prices on one-way flights with any cabin class, including First Class, going to Stockholm
---
Book reliable First Class tickets to Stockholm from top-rated airlines
Airline
Rating
First Class
Price

SWISS

Price

From $459

First Class

Rating

Reviews

On time, stuff was professional and polite, good food. Thank you

Finnair

Price

From $452

First Class

Rating

Reviews

Lots of gate change 15 mins before boarding

Air France

Price

From $537

First Class

Rating

Reviews

Due to terminal renovations, there was inadequate seating. Couldn't understand the gate agents announcements with her mask on. Could use more legroom in seats

United Airlines

Price

From $369

First Class

Rating

Reviews

I was in first class and by the time I got on there was no room in the overhead bins, which made me a nuisance when the plan landed and I had to navigate getting my bag from several rows back.

American Airlines

Price

From $354

First Class

Rating

Reviews

We flew into Miami avoiding the incoming storm and they did a wonderful job of bringing us home safely!

British Airways

Price

From $407

First Class

Rating

Reviews

Again this is an airline problem but our flight was delayed 7.5 hours and we sat on the plane at the gate for 2.5 of those hours.
The starting price for first class flights to Stockholm is around $8,571, although prices may vary based on origin, travel dates, and preferred airline. Some first class flyers have reported tickets as low as $5,419 (last found on Sep 18) when flying from United States.

Instead of flying first class, you can opt for a business class flight to Stockholm for about 55% less. business class flights, on average, will cost $3,908 per person and provide flyers with similar great perks and comfort.

Tired of flying Economy? Scandinavian Airlines, the most highly rated airline for flights to Stockholm, offers several premium cabin classes: first, business, premium economy. We advise exploring other airlines and being flexible with where you're flying from to have the most cabin choices.
---
Still figuring out your travel plans? These are all airports near Stockholm that you can arrive in, based on their distance from the city center.
---
Some travelers think it is, while some don't. Regardless, the First Class cabin is undoubtedly one of the many most unique experiences in flying. It can be more worth it when the price is right, and that's where momondo comes in. We help you search from hundreds of travel sites to find the cheapest deals for First Class flights to Stockholm so you can compare and book your next trip.
While the flight duration may vary for First Class travelers depending on the departure and arrival airports, here are some average flight times from popular locations you might be interested in:

Belgrade to Stockholm: 2 hours 35 minutes
Copenhagen to Stockholm: 1 hour 11 minutes
Helsinki to Stockholm: 1 hour 0 minutes
Budapest to Stockholm: 2 hours 18 minutes
Finding the right First Class flight to Stockholm is quick and easy when you have a range of options in front of you, from reputable agents and recognisable airlines. These options can then be filtered down to find the best fit. That is what momondo does. We make finding First Class flights to Stockholm quick and easy, saving you time and money.
momondo does allow users to show only those First Class flights to Stockholm which offer a flexible booking policy as well as other useful filters and features.
momondo helps you find the best First Class flight ticket to Stockholm by providing filters to narrow your choice of flights to those matching your criteria. You can select flights based on numerous factors such as price, departure and landing times, airport and airline.
If you are simply researching potential First Class flights to Stockholm, momondo offers a useful price alert feature which will track prices for First Class flights to Stockholm and alert you when they change.
---
Explore alternative cabin options for your flight to Stockholm
---
View the most-searched flights to Stockholm from different departing origins (based on price and duration)
---
List of major operating airlines with flight deals for this destination