Are there hotels available near Solitude Mountain?
If you're looking for a hotel in Solitude near Solitude Mountain then you are in luck. momondo recommends 12 hotels near Solitude Mountain and on average, area hotels cost $290/night. This price may vary based on season. Hotels near Solitude Mountain are typically 8% more expensive than the average hotel in Solitude, which is $264.
Hotels near Solitude Mountain
Pristine Ski Retreat, Slope Views In Solitude Village, 2 Bed 2 Bath
Powderhorn Lodge 102: Sego Lily Suite
Ski-in/ski-out condo w/community hot tub & Club Solitude access - pools, etc!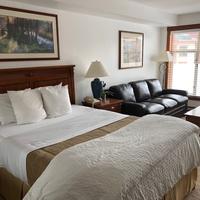 Ski In/Out Studio Condo With Stunning Village & Slope Views Newly Renovated 2018
Cabin fun for the whole family! Sleeps 8 in beds, more if you count the couch!
Late Cancellation Special 275/Night 2 Bedroom/2 Bath Ski-In/Ski Out Sleeps 8
Eagle Springs East 402: Buffaloberry Suite
Eagle Springs West 206: Meadowlark Suite
11373 Church - 1 Br Cabin