Are there hotels available near Paje Beach?
The average price of the 12 hotels near Paje Beach is $111 per night. Since Paje Beach is more popular during certain months of the year than others, the prices may vary depending on when you plan your trip. In a typical year, Paje Beach is most popular during September and least popular during February. These are known as peak seasons and low seasons. The nightly rate for hotels near Paje Beach during peak seasons is $161 and in low seasons is $126. Hotels near Paje Beach are typically 148% lower than the average hotel in Paje, which is $164.
The Waterfront Zanzibar Beach Hotel
Zanzibar White Sand Luxury Villas & Spa
Paje Beach Apartments & Hotel
Villa Huruma - Adults Only
Hakuna Majiwe Beach Lodge
Are there hotels available near Jambiani Beach?
There are 12 hotels near Jambiani Beach that have an average price of $59 per night. Hotel prices may shift based on several factors such as time of year. The peak season for this area is September and the peak season price for hotels in the area of Jambiani Beach is $104/night. The low season in this area is March and hotel prices usually cost about $103/night. Hotels near Jambiani Beach are typically 138% lower than the average hotel in Jambiani, which is $81.
Hotels near Jambiani Beach
Bahari Pizza Restaurant and Bungalows
Spice Island Hotel & Resort
Coral Rock Hotel & Restaurant
Jambiani White Sands Beach Bungalows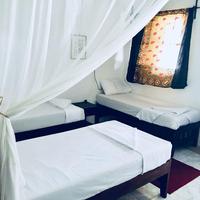 What should I expect to pay for a hotel room near Kizimkazi Beach?
12 hotels are available near Kizimkazi Beach in Kizimkazi. The average price near Kizimkazi Beach is $80/night, but prices can vary based on time of year along with other factors. The peak season (August), when Kizimkazi Beach is most popular, has an average price of $44/night whereas the low season (November) generally costs $597/night on average. Hotels near Kizimkazi Beach are typically 478% lower than the average hotel in Kizimkazi, which is $382.
Hotels near Kizimkazi Beach
Zanzibar Blue Dolphin Bay
Bella Vista Resort Zanzibar