Are there hotels available near Roaring Springs Waterpark?
The average price for hotels near Roaring Springs Waterpark is $137 per night. Of those hotels, momondo users recommend the 9 hotels below for those looking to stay in the area. Since Roaring Springs Waterpark is more popular at some times of year than others, prices may vary depending on when you plan your trip. Hotels near Roaring Springs Waterpark are typically 5% more expensive than the average hotel in Meridian, which is $129.
Hotels near Roaring Springs Waterpark
Tru by Hilton Meridian Boise West ID
Country Inn & Suites by Radisson, Boise West, ID
Best Western Plus Meridian
New Charming Meridian, Single Level Home
Winter Special!! Brand New Home Conveniently Located In Meridian Id.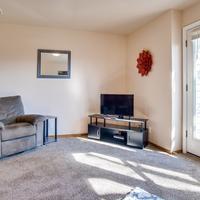 Cozy Meridian Home Hulu W/D 12 Min To Boise
The Palm House At Meridian - New Home In Great Location!