---
Popular Cities in Singapore
Book one of the best deals Singapore has to offer in these popular locations
Hotels in Singapore
Search hotel deals in Singapore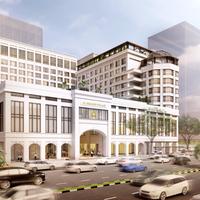 ---
Singapore travel tips
Let us help you with the best tips about Singapore
When is the least expensive time to stay in Singapore?
Visiting Singapore in October would make for the least expensive trip at just 202 USD per night on average. To save on your trip, avoid planning it during September, as this is the most expensive month on average.
Where do most people stay in Singapore?
Our users tend to visit Singapore more often than any other city when traveling to Singapore.
How much does a luxury hotel cost in Singapore?
An average rate of 289 USD per night is to be expected when planning a stay in a luxury hotel room in Singapore. This rate is about 40% above the country's average nightly rate of 205 USD.
Which city in Singapore has the most expensive hotel rooms?
Visiting and staying overnight in Singapore will cost you a premium compared to the rest of Singapore. Expect to pay 579 USD per night, a rate that is about 182% more than the country's average.
Which city in Singapore has the least expensive hotel rooms?
Singapore currently offers the lowest nightly rates of any city in Singapore at just 24 USD; a price that is 88% lower than the average rate per night in Singapore.
---
Most popular tourist destinations in Singapore
Explore the cities our users love in Singapore
---
Popular international routes landing in Singapore
Compare flights to and from the nearest airports to discover the best prices and most convenient flight times
---
Consider staying elsewhere in Asia
If you need more inspiration, you will find the most searched countries in Asia
---
Hotels in other destinations
Lost the lust for Singapore? Check out some hotels in other destinations