How much are hotels near Miramont Castle?
Hotels near Miramont Castle are typically 21% less expensive than the average hotel in Manitou Springs, which is $166.
Hotels near Miramont Castle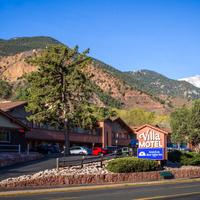 Villa Motel At Manitou Springs
Cliff House at Pikes Peak
Avenue Hotel Bed and Breakfast
Reeds Retreat Condo Downtown Manitou
Manitou Springs Downtown Escape
The Heart of Manitou Springs. Award-winning. Luxurious. Historic. 1st Floor unit
The Nest: A Cozy Garden Retreat Cottage In The Heart Of Downtown Manitou Springs
Creekside Cabin Walking Distance To Downtown Manitou Springs Lic#9244
Loft in Historic Spa Building in the center of Manitou Springs
1892 Victorias Keep - Prospect Place Vacation Rental
Of Manitou Springs 2min To Restaurants, Shops!