How much do hotels cost near Ovid Square?
Those looking for a hotel near Ovid Square should expect to pay $49/night at any of the 12 hotels in the area. During the most popular month of September (peak season), hotels near Ovid Square cost $123/night while they cost $134/night in July, which is considered to be the low season for Ovid Square. Hotels near Ovid Square are typically 163% lower than the average hotel in Constanţa, which is $80.
Ambra Boutique Hotel & Bistro
Belle Epoque Boutique Villa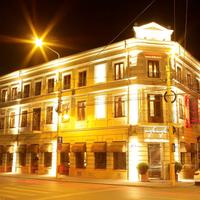 What should I expect to pay for a hotel room near Mamaia Beach?
The average price of the 12 hotels near Mamaia Beach is $134 per night. Since Mamaia Beach is more popular during certain months of the year than others, the prices may vary depending on when you plan your trip. In a typical year, Mamaia Beach is most popular during September and least popular during July. These are known as peak seasons and low seasons. The nightly rate for hotels near Mamaia Beach during peak seasons is $123 and in low seasons is $134. Hotels near Mamaia Beach are typically 168% higher than the average hotel in Constanţa, which is $80.
Apartament Mamaia Summerland