Are there hotels available near Botani Square?
There are 12 hotels near Botani Square that have an average price of $28 per night. Hotel prices may shift based on several factors such as time of year. The peak season for this area is March and the peak season price for hotels in the area of Botani Square is $80/night. The low season in this area is April and hotel prices usually cost about $75/night. Hotels near Botani Square are typically 282% lower than the average hotel in Bogor, which is $78.
Hotels near Botani Square
RedDoorz Plus @ Lodaya Gunung Geulis Puncak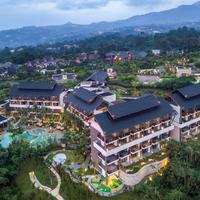 Pullman Ciawi Vimala Hills Resort
Novotel Bogor Golf Resort And Convention Center
RedDoorz Plus @ Megamendung Puncak Bogor
RedDoorz Plus near Exit Toll Puncak 2
RedDoorz Apartment @ Dramaga Tower
Amaris Hotel Padjajaran Bogor
Literooms Kebun Raya Bogor
RedDoorz near Kebun Raya Bogor 2
Are there hotels available near Bekasi Square?
The average price of the 12 hotels near Bekasi Square is $23 per night. Since Bekasi Square is more popular during certain months of the year than others, the prices may vary depending on when you plan your trip. In a typical year, Bekasi Square is most popular during September and least popular during . These are known as peak seasons and low seasons. The nightly rate for hotels near Bekasi Square during peak seasons is $40 and in low seasons is $44. Hotels near Bekasi Square are typically 179% lower than the average hotel in Bekasi, which is $41.
Hotels near Bekasi Square
ibis Styles Bekasi Jatibening
OYO 686 Bunga Karang Hotel
OYO 750 Flagship Mont Blanc
Homey Studio Room Grand Kamala Lagoon with Mall Acces