Prague Vacation Rentals
Find the best deals on 2,932 vacation rentals in Prague
---
Top rentals in Prague
Find the perfect Prague vacation rental for your needs
Malostranska Residence
View all deals
Apartments Kaprova
View all deals
Alveo Suites
View all deals
Cheap quiet apartment ! fast access
View all deals
Vladislavova Apartments
View all deals
Central Prague Apartments
View all deals
Prague Castle Questenberk Apartments
View all deals
Old Town Square Premium Apartments
View all deals
Salvator Superior Apartments
View all deals
Prague Women's Hall Of Fame
View all deals
Albertov Rental Apartments
View all deals
Manesova Astra Apartment
View all deals
Empirent Aquarius Apartments
View all deals
Golden Prague Residence
View all deals
Royal Court Apartments
View all deals
Mooo Downtown
View all deals
Hybernska Apartments
View all deals
Louren Apartments
View all deals
Gold Art Apartments
View all deals
Comfort Rehorova Apartment
View all deals
Selinor Old Town Apartments
View all deals
Masna Apartments
View all deals
Empirent Petrin Park Apartments
View all deals
Hotel At The Black Star Charming Romantic Suites and Apartments
View all deals
Aparthotel Angel
View all deals
Downtown Suites Belohorska
View all deals
Old Town - Templova Apartments
View all deals
3D Apartments
View all deals
My Old Pragues Hall Of Music
View all deals
PM-studios
View all deals
Emporio Prague Apartments
View all deals
Ginosi Elema Apartel
View all deals
Love to Live Apartments
View all deals
Quiet apartment with balcony Charles Bridge
View all deals
Best Place Apartments
View all deals
Unique Duplex Apartment In The City Centre For 7 People By Easybnb
View all deals
Prague Central Exclusive Apartments
View all deals
Andel Centre Spirit
View all deals
Rehorova Apartments
View all deals
U Zeleného jalovce
View all deals
Bright Sunny Apartments In Quiet Area
View all deals
Luxurious And Quiet Apartment Near Wenceslas Square
View all deals
Apartment Paradise Michalská
View all deals
Terrace Apartment Prague
View all deals
Relax in Historical Prague
View all deals
Dlouhá 25 Apartment
View all deals
Luxury Palmovka By Refa Group
View all deals
Alice Apartment House
View all deals
Lovely Prague Apartments
View all deals
Bohemia Apartments Prague Old Town
View all deals
U Zlate Podkovy - At The Golden Horseshoe
View all deals
Ea Hotel Apartments Wenceslas Square
View all deals
Residence Jecna
View all deals
Apartments Dusní
View all deals
Andel Apartments Praha
View all deals
Apartments Comfort
View all deals
Apartment House - The Modern Flat
View all deals
Golden Family Apartments
View all deals
The Art House
View all deals
Camping Sokol Praha
View all deals
Apartments Centre
View all deals
Picasso Apartments Prague
View all deals
Apartment Amandment
View all deals
Prague Studios Andel
View all deals
Sigma apartments
View all deals
Funci Dancing 6
View all deals
Apartment U Lva
View all deals
Roosevelt Hostel
View all deals
Oldtown Square Cape
View all deals
New Town - Apple Apartments
View all deals
Romantic Luxury in Old Town Prague
View all deals
Modern Studio Opletalova
View all deals
Garden Apartment
View all deals
Old Town - Dusni Apartments
View all deals
Opletalova Apartment On Wenceslas Square
View all deals
Apartments Palladium
View all deals
Apartment Beer Spa Praha
View all deals
Vladislav City Centre Apartments
View all deals
GH Prague Apartments
View all deals
Wenceslas Square Terraces
View all deals
Royal Prague City Apartments
View all deals
Tyn Church Apartment
View all deals
Apartment Astronomical Clock
View all deals
Tower Apartments
View all deals
Veles Apartment
View all deals
Apartment Julie
View all deals
Apartment Havelska
View all deals
D22 Luxury Apartments Old Town
View all deals
Apartment House Zizkov
View all deals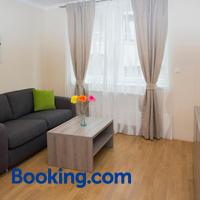 Limes Apartments
View all deals
Budget Apartment
View all deals
Mh Apartments River Prague
View all deals
Top Wenceslas Square Apartment
View all deals
Tyn Square
View all deals
Apartements Studio 964
View all deals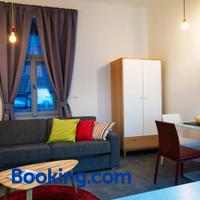 Apartments At The Blue Duckling
View all deals
The Republic Apartments
View all deals
Kaizlovy Park
View all deals
Pop Art Rooms
View all deals
---
When to book a vacation apartment in Prague
Check out the tips below to find the best deal on a Prague vacation rental property
| | |
| --- | --- |
| Low Season | February |
| High Season | April |
cheapest month to stay
44%
expected price decrease
most expensive time to stay
23%
expected price increase
| | |
| --- | --- |
| Highest day of week | Wednesday |
| Cheapest day of week | Saturday |
av. price over the last two weeks
Average price (weeknight)
$119
av. price over the last two weeks
av. price over the last two weeks
Average price (weekend night)
$92
av. price over the last two weeks
---
Cheapest vacation rentals in Prague
Our lowest priced vacation apartments and property rentals for a cheaper way to stay in Prague
Luxurious And Quiet Apartment Near Wenceslas Square
Relax in Historical Prague
---
Prague vacation apartments & rental properties FAQ
How long do people typically book vacation apartments for in Prague?
The average length of a vacation rental booking in Prague is 3 nights.
How much does a vacation rental apartment in Prague cost?
Renting a vacation apartment in Prague will see a range in pricing typically determined by the season, location of the apartment and the number of rooms required. Recently, a typical search for apartment rentals in Prague suggests an average of $162 per night.
When is the best time to book a vacation rental in Prague?
If you can be flexible on booking dates, vacation apartments and rental properties in Prague can be as much as 44% cheaper in February.
What's the best area of Prague to book a vacation rental in?
When looking for vacation apartments in Prague, recent bookings have shown Prague 13 and Prague 14 to be the most popular places to stay, with Prague 16 also being increasingly considered.
---
Start planning your trip to Prague
---
People interested in Prague also looked at
Not set on Prague? Search the best deals on vacation rentals in these destinations