What should I expect to pay for a hotel room near Jurere Beach?
There are 12 hotels near Jurere Beach that have an average price of $32 per night. Hotel prices may shift based on several factors such as time of year. The peak season for this area is and the peak season price for hotels in the area of Jurere Beach is $126/night. The low season in this area is June and hotel prices usually cost about $36/night. Hotels near Jurere Beach are typically 222% lower than the average hotel in Florianopolis, which is $72.
Il Campanario Villagio Resort
Canto Dos Passaros Flat Canasvieiras
Residencial Baleia Franca
Apartamento Residencial Messina
How much do hotels cost near Siriu Lagoon?
The average price of the 11 hotels near Siriu Lagoon is $33 per night. Since Siriu Lagoon is more popular during certain months of the year than others, the prices may vary depending on when you plan your trip. In a typical year, Siriu Lagoon is most popular during September and least popular during . These are known as peak seasons and low seasons. The nightly rate for hotels near Siriu Lagoon during peak seasons is $65 and in low seasons is $128. Hotels near Siriu Lagoon are typically 292% lower than the average hotel in Garopaba, which is $97.
Flats da barrinha da ferrugem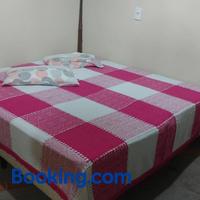 What should I expect to pay for a hotel room near Bombas Beach?
If you're planning a trip to Bombinhas and want to stay at any of the 12 hotels in the area around Bombas Beach you should expect to pay around $39/night. This price fluctuates based on time of year. During February (peak season) you can expect to pay $131/night and if you're planning your visit in April (low season), the average price will typically be closer to $129/night. Hotels near Bombas Beach are typically 318% lower than the average hotel in Bombinhas, which is $123.
Pousada Vila do Navegante
Atlântico Hotel & Convenções
Recanto do Sossego Residence
Pousada Cabanas Porto Belo
Residencial Milena e Michele
Pousada Dom Capudi- Hotel Boutique
Bombinhas Praia Apart Hotel