Get your motor running, stock up on gallons of water, and keep-on-truckin' along the endless highways across the American Southwest. The best months to discover canyon country in Colorado, Utah, Nevada, and California is from early September to early November or from March to early May, avoiding the scorching summers and surprisingly cold winters. You'll be burning rubber on about 2,184 miles, so give yourself two or three weeks to dedicate enough time to each destination.
Dazzling sunrises and epic hikes are only some of the things to see on the road. Give in to curiosity and discover all the desert's hidden gems. Honk your horn to the sound of our canyon cruisin' playlist – it's time for a southwestern road trip!
Read more: prepare for your holiday with our 17 essential road trip tips
Denver, Colorado
The road begins in Denver, Colorado – the Mile-High City. Before you hit the road, gather the essentials. You'll often be tempted to eat al fresco in the fascinating canyon scenery, so fill a cooler with sandwiches and snacks you can take on hikes. Stocking up on water is an absolute must for hiking – and because gas stations and grocery stores can be few and far between on the road.
Given that you're well prepared and have packed sunscreen, hiking shoes, and clothing for all outdoor conditions well in advance, you'll have time to spare to check out the Molly Brown House museum, a Victorian home turned museum dedicated to Margaret Brown, philanthropist and survivor of the Titanic disaster. Denver > Black Canyon: 261 mi
Black Canyon of the Gunnison National Park, Colorado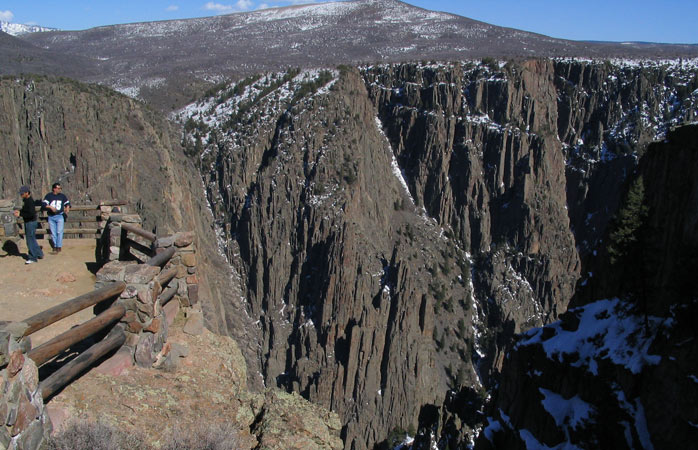 After Denver comes the Black Canyon of the Gunnison National Park. Sculpted by the Gunnison River, the canyon, with its steep, dark walls of rock, is an impressive sight. Dare-devil rock climbers test their limits, crawling to dizzying heights along the almost vertical walls.
For those who prefer keeping their feet on the ground, opt for one of the many hikes around the North and South Rim. For the beginning of the trip, start out soft with the 1.2 mile Rim Rock Nature trail on the South Rim. As the name implies, there's a lot of nature to brush up on, as well as scenic breaks allowing spectacular views of the canyon and the Gunnison River a couple thousand feet below.
Extra tip: Watch out for bears, and keep your food sealed and within sight
Black Canyon > Canyonlands: 205 mi
Canyonlands National Park, Utah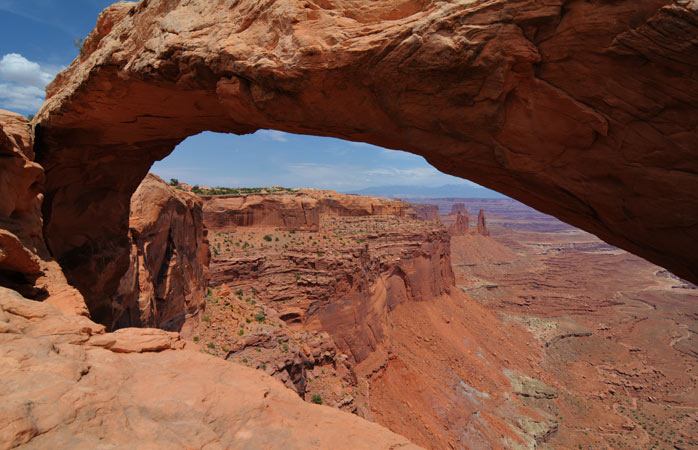 The name speaks for itself – Canyonlands is the home of amazing eroded sandstone canyons, and is a true mecca for hikers, white-water aficionados and mountain bikers. A great first taste of the area is an easy five-mile round-trip hike to Mesa Arch, a pothole arch formed in the sandstone that dangles over the cliffs.
Head to the Island in the Sky, one of the four districts easily accessible and only 40 minutes' drive from the city of Moab, making it one of Canyonlands' biggest attractions. The view overlooking the Green River snaking its way through a landscape of burnt red canyons and buttes is a great way to figure out what activity you'll want to do next.
At Cataract Canyon, test the white waters below the confluence of the Colorado and Green rivers, rafting on 14 miles of powerful and high-speed rapids. Canyonlands also provides trails of all shapes and sizes for hikers of any pedigree.
For lodging, you'll have to head back to Moab. However, if you plan on making the visit to Canyonlands a sleepover, you'll need to reserve an overnight permit (recommended to be made in advance if planning to visit during peak seasons of spring and autumn).
Nearby, check out Arches National Park for more mountain biking on slick rock trails and eroded arches.
Canyonlands > Glen Canyon: 186 mi
Glen Canyon National Recreation Area, Utah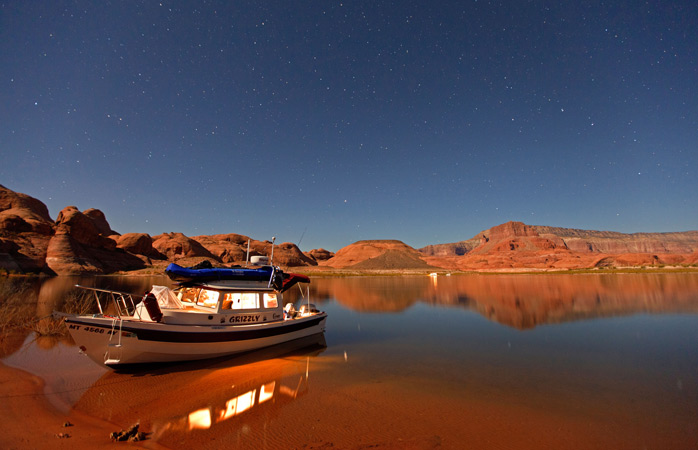 Bordering Canyonlands, the Colorado River flows through Glen Canyon NRA and settles in the man-made reservoir Lake Powell. Admire the steep canyon walls while paddling a kayak across the vast lake or waiting patiently for a large-mouth bass to bite your line.
For those with a full day free, step ashore for a hiking day-trip. Easier routes include Moqui Canyon or Forgotten Canyon – the latter of which will lead you to the ruins of a Puebloan dwelling lodged in the canyon walls. You'll also find slot canyons which often require skills in rappelling and route finding, so they are recommended for those with technical experience or accompanied by a guide. Nevertheless, you can venture into Smith Fork, a tight but non-technical slot canyon with a rewarding view over the lake below. All this in one day, topped off with an unforgettable sunset over the lake!
Glen Canyon > Dixie National Forest: 248 mi
Dixie National Forest and Bryce Canyon, Utah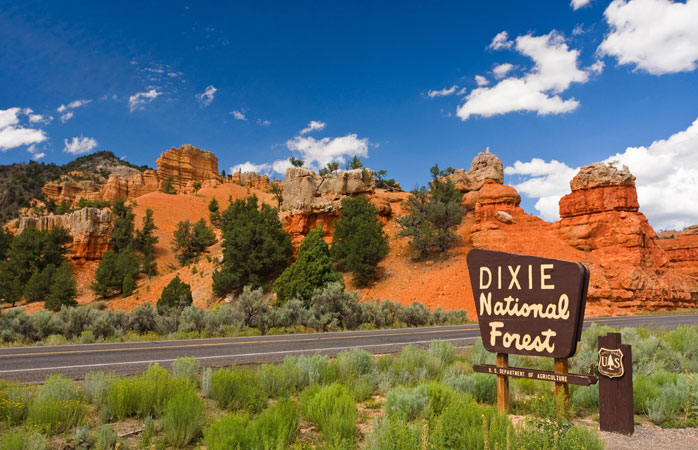 Fans of hoodoos (a spire-like rock formation), behold – Dixie National Forest is rock formations galore. Enjoy a scenic drive across the Powell Ranger district where, between the pines, vertical rock formations jut out from the ground, giving the route the nickname Little Bryce.
Bryce Canyon National Park itself awaits an hour's drive away for a nightfall adventure – the full moon guided tours. Considered one of the darkest skies in the region, the night hike offers a peaceful moment of communion between you, the star-studded sky and nocturnal critters. As the hikes are obviously planned during full moons so as not to need flashlights, you'll need to plan ahead accordingly.
Dixie National Forest > Antelope Canyon: 155 mi
Antelope Canyon, Arizona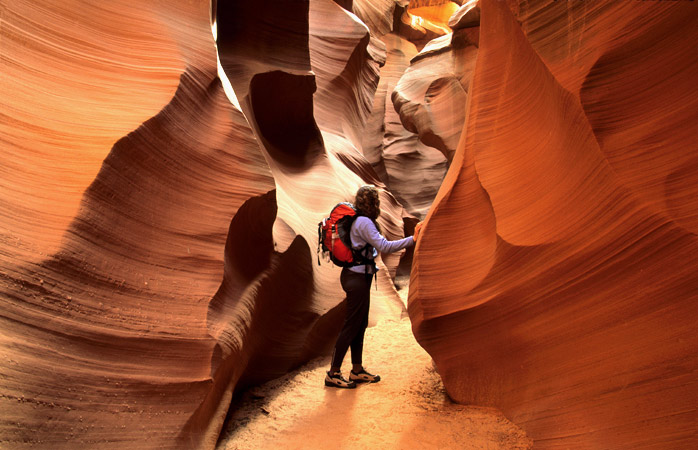 Antelope Canyon is undoubtedly the most photogenic of the southwestern beauties, with her pink and orange curves. Join the streaks of sunlight painstakingly trying to find their way through the endless spiraling crevasses. Upper Antelope Canyon doesn't require any climbing but Lower Antelope Canyon is only accessible by a metal staircase. Both canyons, however, require slaloming through narrow spots and both require joining a private tour to explore their beautiful flash-flood sculpted corridors. Photographers will appreciate the light that filters through the canyons in the summer months towards late morning, yet every hour of the day allows for an unreal palette of mustard, crimson and even mauve hues.
Those up for a challenge can try the Antelope Canyon Ultra; a 34-mile course for a unique adrenaline-pumped trail run past Horseshoe Bend, through Waterholes slot canyon and along the Page Rim Trail.
Read more: check out the best marathons across the globe
Antelope Canyon > Canyon de Chelly: 161 mi
Canyon de Chelly National Monument, Arizona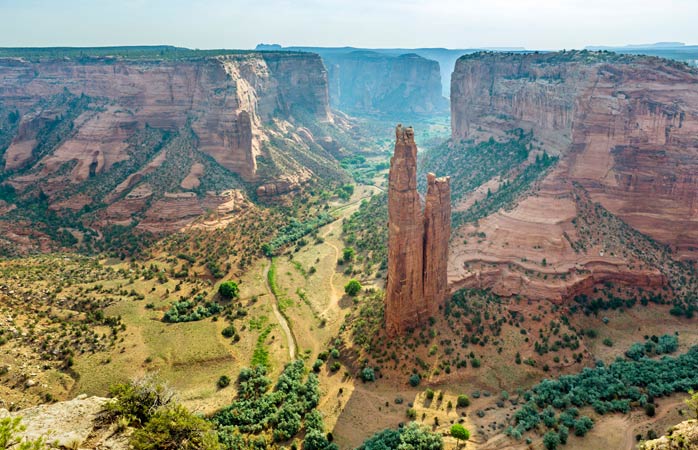 Within the boundaries of Navajo nation, and cooperatively managed by the Navajo tribal Trust and the National Park Service, Canyon de Chelly lies surrounded by history of early indigenous tribes. Take the South Rim Drive to catch some views across the surprisingly lush canyon floor and check out the two-hour round-trip hike to White House Ruin – ancient dwellings nestled in a niche in the wall. While down there, why not ride horse-back across the canyon floor with an authorized Navajo guide to discover Spider Rock, a high-rising spire, and enjoy looking up the canyon walls, instead of looking down?
Back on the road, a small detour around Flagstaff will lead you to Sedona, a major so-called energy vortex said to have healing powers. As you stand on Mystic Vista hill, with a recently purchased healing crystal around your neck, soak up the humbling view of sky-scraping buttes winding round plains of thirsty bushes.
Canyon de Chelly > Grand Canyon: 420 km
Grand Canyon National Park, Arizona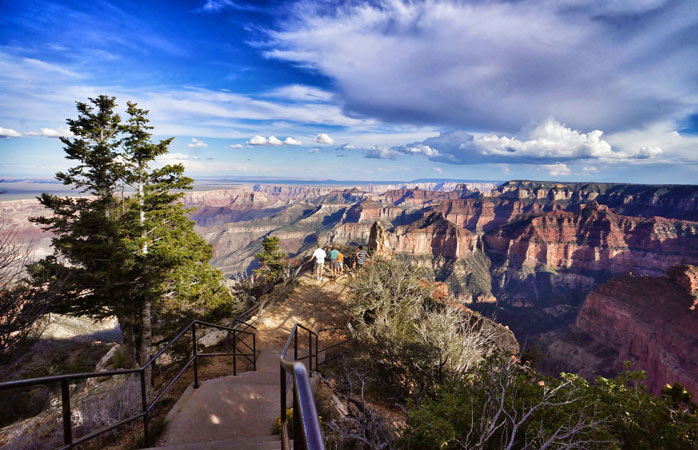 The Grand Canyon needs no introduction, and thoroughly deserves its place on the list of incredible canyons to visit. Hikes along the rim either for sunrise or sunset are a guaranteed spectacle of colors and lights, or take it easy, perhaps opting for the shuttle rides around Hermit's road, with stops to enjoy views from the different lookouts. For a full panoramic view above the 2952-mile drop, Mather Point on the Rim Trail is your best bet.
Although on the opposite end of the canyon, if you want to feel like you're floating above it all, Skywalk, the glass platform jutting out over the rim at Grand Canyon West, takes the cake. Summers tend to reel in the crowds as the trails get icy in the winter and the North Rim closes, so autumn is the ideal season to get the most out of this grand beauty.
Your next stop – or drive – is much less mystical but can definitely feel haunted at times. This short stretch of Route 66 that detours off I-40 at Seligman is littered with forgotten gas stations and ghost towns like Peach Springs. You might recognize some of the sights – the animated film Cars was inspired by the abandoned John Osterman Shell Station and other deserted landmarks close by.
Grand Canyon > Red Rock Canyon: 288 mi
Red Rock Canyon National Conservation Area, Nevada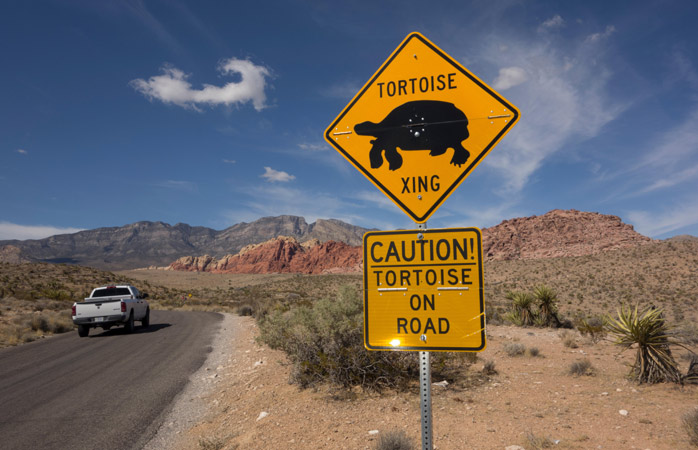 Rivaling the Las Vegas strip for things to see and do is neighboring Red Rock Canyon. The presence of various Native American communities from hundreds of years ago have left their mark, with numerous petroglyphs to be found around the area. Rock climbers can conquer Red Rock via easy to hard climbs anchored around the site. Temperatures can reach a scalding 104°F, so bring plenty of water.
A visit to the conservation area in the Mojave Desert is a worthwhile visit. There, you can discover common local plants like Joshua trees or yuccas, and see the protected Desert Tortoise habitat at the visitor center. After a long day, you've deserved a relaxing shower and a night out on the town exploring other – very different – peaks like the Eiffel Tower replica or the soaring Stratosphere Tower. Red Rock Canyon > Death Valley: 124 mi
Death Valley National Park and Desolation Canyon, California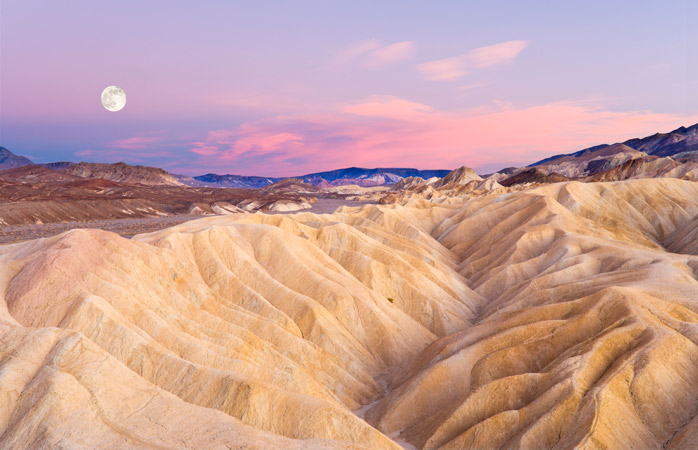 Like something straight out of Star Wars, the arid 3.4 million acre desert Death Valley – one of the driest national parks – is yours for roaming. Summer heat is to be taken seriously here, where isolation and empty water bottles can quickly spiral into a scary, and possibly fatal, scenario. Be extremely careful when venturing out, and pack more water than you think you'll need.
Close to the visitors center, near Badwater Basin, is Desolation Canyon. Along with the accurately named Artist's Palette (a multi-coloured volcanic sediment hill), the canyon was in fact the stage of several scenes from Star Wars Episode IV: A New Hope. Using carved out steps in the rock and sliding through narrow bends, you can explore the desolate and lifeless canyon and see if you can spot a Bantha.
Don't miss The Racetrack, where rocks slowly meander across the lakebed thanks to thin layers of ice forming, and then melting, leaving their tracks behind them. To witness the relief of the dried-out Lake Manly that formed the badland ridges on the desert floor, head to Zabriskie Point, also stage to the eponymous film.
Death Valley > Los Angeles: 292 mi
Los Angeles, California
On the long desert road to LA, don't hesitate to refresh and indulge yourself at the fresh fruit stands and jerky shops. Keep your eyes open for the interestingly named community, Zzyzx (pronounced Zai-zix), on your way towards Barstow, home of the World's Tallest Thermometer, there to remind you of the scorching desert weather outside your air-conditioned vehicle. An extra oddity to add to your road trip memories could be a quick visit to the not-so-refreshing abandoned Rock-a-Hoola Waterpark, closed since 2004 – your Instagram will go wild for the retro, decaying pool slides and other rusty rides.
One last all-American bite before catching your flight? Make a pit stop in San Bernardino to feast in the first ever McDonalds joint and take a walk down fast-food memory lane with vintage memorabilia spread over the walls. You're now (un)officially American, and a true-blue canyon country survivor. Congratulations!
Total road trip length: 2,184 km*
*Distances are approximate and based on information found on Google Maps