Are there hotels available near Meteora?
If you're looking for a hotel in Kalabaka near Meteora then you are in luck! There are 12 hotels in the area. On average these hotels cost $68/night, but this price varies based on time of year. During the peak season at Meteora (November), you can expect prices of $79/night and during the low season (March), the average price is $100/night. Hotels near Meteora are typically 108% lower than the average hotel in Kalabaka, which is $74.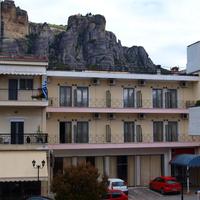 How much do hotels cost near Elias Beach?
12 hotels are available near Elias Beach in Koukounaries. The average price near Elias Beach is $63/night, but prices can vary based on time of year along with other factors. The peak season (September), when Elias Beach is most popular, has an average price of $299/night whereas the low season (October) generally costs $362/night on average. Hotels near Elias Beach are typically 468% lower than the average hotel in Koukounaries, which is $292.
Mandraki Village Boutique Hotel